New Patient Registration 

We are currently welcoming new patients.
We accept patients who live outside of the practice area as our location near train, tram and bus stations mean that we can be a convenient place for commuters to access care. Please note that we will not be able to offer home visits to those patients outside of our practice boundary.
If you would like to register with us please complete a new registration form and GMS registration form and bring them along to the to the reception desk at the practice.
These may now be scanned and emailed to us or posted in order to avoid people having to come into our reception area in line with the current government guidelines on social distancing.
You can download copies of these documents below which can be printed out and completed before bringing to the Practice.
GMS1-family-doctor-services-registration-form
Parkside New Patient Registration Form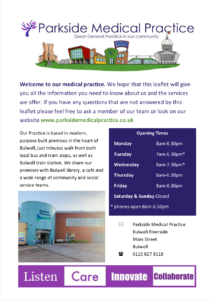 We require 2 forms of identification when you register – for example a passport or driving licence and a utility bill. This is to help us ensure the security of your medical information.
Please ask at the reception desk for further details.
We look forward to welcoming you as a new patient
Practice Boundary
Attached is an image showing our practice boundary.
Temporary Residents
If you are in the local area for a short-term stay and require medical help you may register with us as a Temporary Resident. Please ask at the reception desk for further information.